Perseverance, determination, wisdom and family are the four words that came to my mind after I spoke with Lysanne Richard.
When she was just a child, her parents wanted to enroll her in swimming lessons. However, there was no more room for children of her age. Funny coincidence, right next to the swimming lessons registration table, there was the registration table for the diving classes. Imagine what had happened! She then embarked on this wonderful sport, and it hadn't been a mistake because today, she won several medals in high diving. In 2016, she was awarded Female Athlete of the Year by the International Amateur Swimming Federation (FINA) and in 2018, she was the winner of the Red Bull Cliff Diving World Series in Switzerland. What a beautiful achievement! 
During her teenage years, the 38-year-old woman studied in a Sport-studies program. She studied at the National Circus School in Montreal, which allowed her to work for several years with Cirque du Soleil and the 7 doigts de la main. In 2015, she started high cliff diving. High diving is described as performing figures like the Barani figure from a platform. When athletes practise this sport, they land in the water on their feet. In addition, a 20 meter platform was inaugurated at the Olympic Park Sports Center.  
Like anyone who is deeply involved in the sport they practice, Lysanne had to make sacrifices when she was competing—for example, missing a friend's wedding or a shower. It was not always easy, but fortunately, she was always well surrounded by her coach and her family, who supported and accompanied her on her wonderful journey. One of the people who marked her was the former diver Ginger Huber. " My friends would describe me as a "Super Mom" because I try to excel in many areas of my life and because my priority is above all to be a mom and be there for my children ", she mentioned.
In closing, here are some tips Lysanne has for you who would like to persevere or who are discouraged in what you are undertaking: first of all, it's never too late to do what you love. Then, nothing is impossible if you persevere. "The real difference is in our head," she says. On the other hand, she goes on by saying that you should not see the top of the mountain, but that you must go one step at a time and that you must take your time.
Lysanne is an great example of persistence and determination because she worked hard to get to where she is, despite all the challenges she faced on her way. She is also wise, and she gives excellent advice to the people around her. She exudes tenderness and kindness, and it only takes a few minutes in her company to discover her maternal side. As the old saying goes, "Persistence and tenacity come to the end of everything." To follow Lysanne, here is her Instagram account: lysanne_richard .
---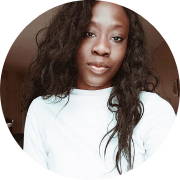 ---